Press release
Greens mark €169m boost to Midlands
28th April 2023
Image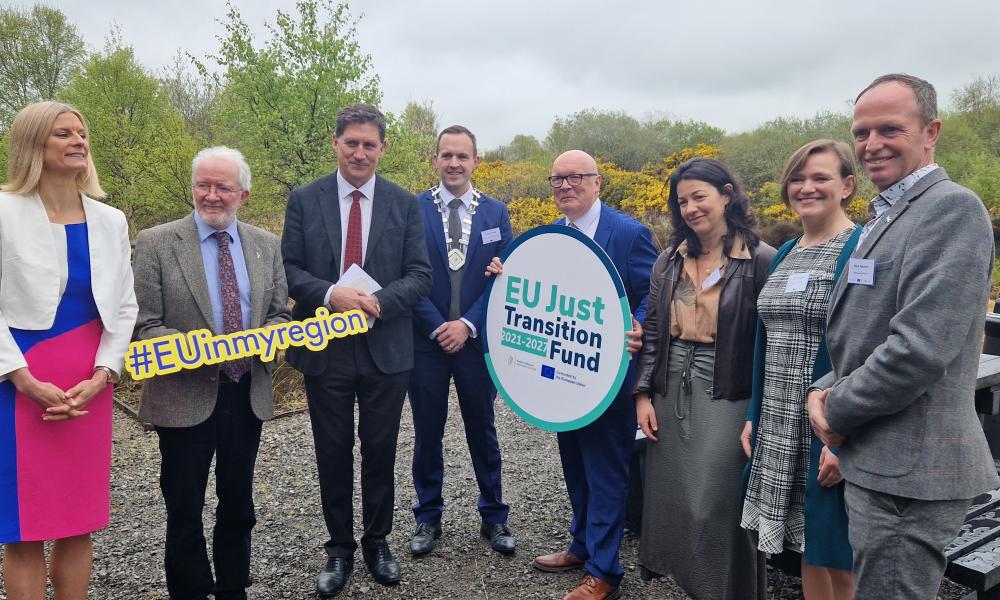 Three Green Party Ministers were in Longford today (April 28) to officially launch the €169m EU Just Transition Fund to support people and nature in the broad Midland Region as we move away from fossil fuels and towards a sustainable economy. The fund is jointly funded by the Irish Government and the European Union to support regions and communities most affected by the transition to climate neutrality.
The funding will help provide new green jobs, develop green energy, decarbonise transport, and underpin green agriculture and enterprise in communities that were heavily dependent on commercial peat extraction and peat-fired power generation.
Counties Laois, Westmeath, Offaly, Longford, Roscommon, Galway, Tipperary and Kildare will also benefit through a regenerative tourism and place-making scheme that will add new walking, cycling and waterway trails, visitor amenities and low-carbon accommodation to the midlands.
Green Party ministers Eamon Ryan, Pippa Hackett and Malcolm Noonan launched the fund at the Corlea Trackway Visitor Centre in Kenagh, County Longford today. Ensuring a Just Transition is a cornerstone of Green Party policy, supported by securing government and European Commission money to help people and nature response to climate change and the transition to a low carbon economy. It is part of the 2015 Paris climate agreement which was adopted by 195 countries including Ireland.
Eamon Ryan, Minister for the Environment, Climate, Communications and Transport said;
"The Just Transition Fund will help ensure that no one is left behind and all parts of the country will benefit from the move to sustainable local. Rural communities and farmers are the frontline climate heroes of the future and this fund is focused on supporting them. Over the coming decade, it will be used to generate new green jobs, support the development of green energy, provide investment and support for green agriculture, stimulate enterprise, increase sustainable tourism and restore damaged peatlands. The overall aim is to ensure that both people and nature can thrive."
The Just Transition Fund will be managed by the Eastern and Midland Regional Assembly and is targeted at the counties of Laois, Longford, Offaly, Roscommon, Westmeath, and the municipal districts of Ballinasloe (Co. Galway), Athy and Clane-Maynooth (Co. Kildare), and Carrick-on-Suir and Thurles (Co. Tipperary).
Pippa Hackett, Minister of State for Land Use and Biodiversity, said;
"As someone who lives in the midlands I'm delighted to see this significant investment for the region from the EU Just Transition Fund . I'm particularly pleased with the two flagship initiatives from my Department.
"The €35 million in funding I am announcing today, for the Midlands Carbon Catchment Study and for Bioeconomy Demonstration Initiatives will develop projects which will engage farmers and  landowners to develop products, services and jobs that will be support a sustainable, climate neutral economy right here in the midlands.
"I encourage all farmers, local community groups, research performing organisations and enterprises to actively engage and collaborate together in these two opportunities so that collectively, we can realise the potential of this region."
The funding will be primarily allocated as follows:
€68 million - Fáilte Ireland Regenerative Tourism & Placemaking Scheme for the Midlands
€35 million - Department of Agriculture – COEs Farming in Wetlands & Job Creation
€29 million – Pobal Community Fund (LEDCs)
€18 million - Department of Transport – E-Charging Infrastructure & Mobility
€12 million - NPWS Peatland Rehabilitation & Community Trails
Malcolm Noonan, Minister of State for Heritage and Electoral Reform said;
"The €12m allocated to the National Parks and Wildlife Service will scale up the rejuvenation of degraded peatlands, restoring them to their original habitats where possible and rehabilitating them to high nature value habitats everywhere else. Bringing nature back to these special places, and ensuring amenity access for us all to enjoy them, are just some of the benefits of the Just Transition Fund. We will also endeavour to work with the local contractors who know these bogs best, further supporting the rural economies that depend on them."