Press release
New baby bundle will give parents welcome support
22nd December 2022
Image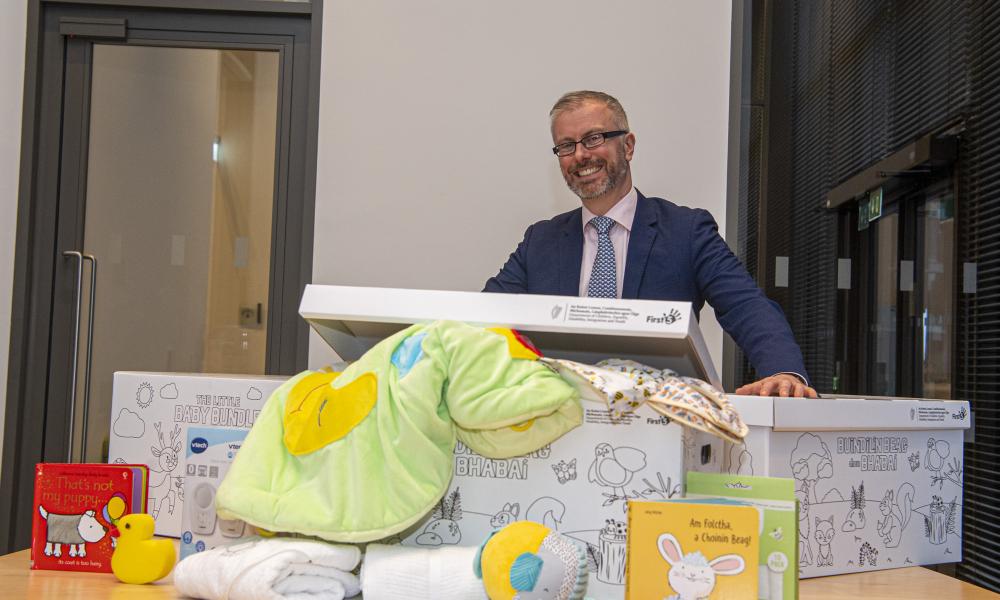 Five hundred new parents will receive a 'Baby Bundle' to support them and give their newborns the best start in life, thanks to a new scheme launched by Green Party Minister for Children Roderic O'Gorman. The bundle will contain essential items to the value of €300 as a welcome gift from the State to assist them during this significant moment.
At the announcement, Minister for Children, Equality, Disability, Integration and Youth, Roderic O'Gorman, TD said; 
"I am delighted to have the opportunity to support families as they manage those essential first few weeks in their child's life. This period can be challenging for parents, so it is crucial they get the practical support they need during this special time. This government is committed to ensuring children have the best start in life and to helping them reach their full potential."
The pilot initiative will launch in February 2023 in the Rotunda Hospital, Dublin and University Hospital Waterford, when 500 expectant parents will be invited to participate following their 20-week scan. The parents will choose when would best suit them to have the Baby Bundle delivered and will share their views and experiences of the contents. This feedback will play a crucial role in informing the development of the scheme for a wider roll-out.
The items in the Baby Bundles include a blanket; hooded bath towel; thermometers; baby monitor; muslin cloth squares; nappy cream; reusable nappies, nursing pads and wipes; bibs; manual breast pump; sling; play mat; travel changing mat and changing bag. The Bundle will also include a booklet with helpful information and advice for expectant parents, as well as children's books (in English and Irish), to help parents use reading to bond with their children.
Green Party TD for Waterford Marc Ó Cathasaigh praised the announcement saying;
"I'm delighted to see University Hospital Waterford participate in this wonderful pilot scheme. I have worked closely with my Green Party colleague Minister O'Gorman to deliver this pilot scheme for Waterford, and I expect it will be a huge success.
"As a parent of three small boys, the items on the list would have been very welcome when we were starting our little family. It gives every baby receiving it an equal start in life with practical items every parent will use. Just as useful as the blankets, toys and nappies, are the information pack and books, which are a major assistance for helping a baby's development. It is fantastic that Waterford parents will be able to lead the way and their feedback will be very useful in designing the roll out of the bundle nationwide."