Press release
"We are the party of lasting solutions" – Green Party's 2022 Annual Convention hears that difficult times require more than knee-jerk policies
26th November 2022
Image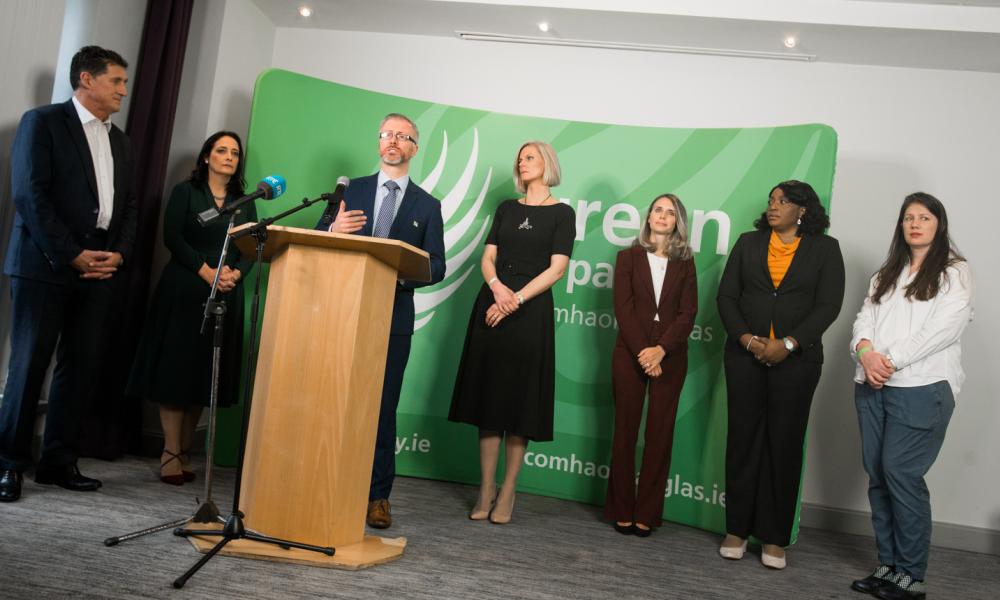 The Green Party's Annual Convention continues today in Athlone (Saturday, Nov 26th) during which the party will set itself a target of winning one in ten votes at the next local and European elections.
In his televised leaders' speech this evening, Green Party Leader, Minister Eamon Ryan TD, will outline how the party is focused on delivering progressive change rather than quick fixes or knee-jerk solutions. He will cite the plan to install solar panels on every school roof in the country and the 25% average reduction in childcare fees from this January as tangible proof of this approach.
Other examples of Green Party delivery include:
€9bn National Retrofitting Plan
€1.3bn forestry programme
20% cut in public transport fares
Basic Income pilot for artists
Hundreds of new greenways, cycle lanes and rural bus routes
Abolition of VAT on newspapers
Doubling of National Parks and Wildlife Service conservation rangers
Legalised the use of CCTV evidence to prosecute fly-tipping
Supporting local community and voluntary groups to welcome Ukrainian arrivals
Minister Ryan said the Green Party would continue to deliver further transformative measures during the remainder of its term of office. He added that the contrast between the Green Party's forward-thinking approach and the knee-jerk populism of other parties is becoming increasingly clear;
"We are proud to be the party that offers lasting solutions to this country's problems rather than shallow, quick-fixes that set our country back even more."
The Green Party leader added that the Irish public is growing wise to the opposition's attempts to paint themselves as environmentally conscious when in reality they offer little of substance.
"You don't overcome generations of environmental neglect by making sympathetic comments. You don't cut emissions just by tweeting about it. The Irish people have had enough of greenwashing," he said.
This understanding of the Green Party's strengths would see the party secure one in ten first-preference votes at the next local and European elections, he predicted.
Green Party Deputy Leader, Minister Catherine Martin TD, said the Green Party had entered Government in order to deliver and was fulfilling that promise;
"We believe that real progress is being made. That is why the Green Party is in government. Delivering, achieving and meeting challenges head on. Carrying through with long lasting change, not slogans or soundbites.
"Our reforms belong to current and future generations, whether it is change through climate action, social justice, childcare reform, making our society more sustainable, protecting our children online or recognising our treasured heritage."
She said the Green Party in government has continued to ensure our most vulnerable are supported in times of crisis;
"We deliver long lasting meaningful differences to people's lives. This brings hope but also helps steer communities on a totally new path. And it is real progress, not the empty rhetoric that others may use, that defines the Green Party in government."
Today's proceedings will feature round-table discussions on climate action, the European Green Deal, childcare reform and arts and culture. It will also include speeches from the party's chairperson, Senator Pauline O'Reilly and national co-ordinator, Councillor Michael Pidgeon. 
Learn more about the Green Party Annual Convention here.