Press release
Green Party conference ends with call for solidarity with victims of war and climate change
22nd October 2023
Image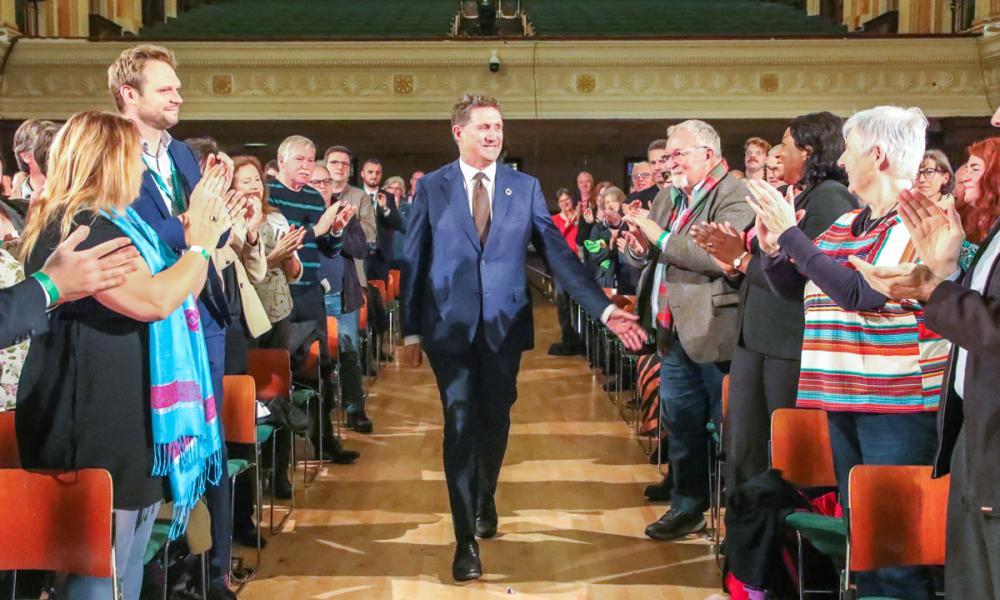 The Green Party's annual conference ended with a rousing call for solidarity for the victims of war and climate change both here in Ireland and further afield.
On Saturday evening in Cork, party leader Eamon Ryan and deputy party leader Catherine Martin told around 400 delegates that green values have never been more important.
'In a world at war, voting green is a vote for a more peaceful world. In a world that is burning, voting green protects our people. It is the antidote to fear. It brings a future we can all believe in," Eamon Ryan said.
"The need for progressive, green politics around the world has never been so compelling, so pressingly urgent," Minister Martin added.
During his televisied address, Minister Ryan said: "We were one of the first Governments to call on the Israeli armed forces not to target civilians in Gaza as they hit back at Hamas," Minister Eamon Ryan said. "Such thinking comes from the lessons we have learnt from our own troubles. The bombing of civilians is never justified and is never going to work. The oppression of the people in Gaza and the West Bank has to stop now. The humanitarian imperative requires an immediate cease fire."
Turning to housing, Minister Ryan said the State could build over 30,000 new homes this year. "Early indications are that the number will rise to 40,000 next year and it needs to grow to beyond 50,000 houses in the years after that."
Both leaders were critical of the problems related to social media. "The algorithms are designed to hold our attention by promoting what we like, confirming our existing prejudices and promoting greater polarisation.  It is a threat to our democracy as we are bombarded with disinformation and conspiracy theories," Minister Ryan said.
Minister Martin told delegates earlier that the "growth of disinformation and misinformation by bad actors challenges our democracy and our society, and has the potential to undermine public confidence in news, information, and the political system." 
She added; "This Government and I, as Minister for Media, are taking unprecedented steps to address this.  Work is well underway in my Department on the development of a national counter-disinformation strategy; new laws to be implemented by the recently established regulator, Coimisiún na Meán, will reduce the availability of harmful online content. We will tackle disinformation and make the online space safer for all."
Turning to RTE, Minister Martin said independence from all state, political and commercial influences is enshrined under law and must be respected at all times. "But this does not mean it should be exempt from accountability. And any decision on additional interim funding for RTÉ is conditional on this new strategic vision demonstrating that transparency, robust governance and greater efficiency are at the heart of its operations."
Turning to the local and European elections in June, she called on members to campaign. "It's time to move our campaign up a gear. Let's knock on every door, walk up every bohereen, and campaign in every housing estate," she added.
Earlier in the day, delegates took part in sessions on the arts and climate change, housing, forestry, Palestine and forestry.
In his speech to the convention, Minister Roderic O'Gorman announced plans to allow women undergoing cancer treatment to delay their maternity leave.
"When I took office, parents were entitled to two weeks of paid parents leave after the birth of their child. By next year, that will have been extended to nine weeks for each parent," Minister O'Gorman told the conference. "Over the next number of months, I will be working to deliver on the Leave our Leave campaign by the Irish Cancer Society that women who suffer cancer or other serious illnesses during their maternity leave can avail of the full period of their maternity leave, once their treatment ends."
In a sometimes lively session on new motions to change policy, party members voted in favour of motions on online voting at conventions, neutrality and to allow local authorities to direct that derelict properties be sold by auction.